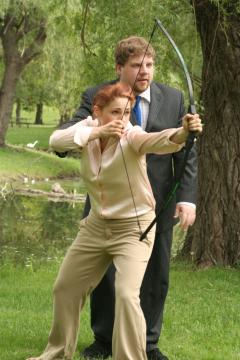 Photo by Scott Pakudaitis

Kathleen Nelson




CakeeaterChronicles Blog



The rest of our weekend was fairly uneventful. Fortunately, we didn't get pounded with the storms they got to the south of here, so this meant, despite the threatening weather, we packed a picnic dinner and meandered over to the Lake Harriet Rose Garden for a little Shakespeare on Saturday night. The Cromulent Shakespeare Company put on Love's Labour Lost, which was not a play I was familiar with, so my expectations were not high. I have to say, however, they were very good. Both the husband and I were impressed. Usually, when you go to Shakespeare in the Park, it's usually a wash of an experience: you get the cheap thrill of sneaking a bottle of wine without getting busted for open container violations, but the acting is usually substandard, and the language, usually, gets completely lost in the trees (or in the case of the Lake Harriet Bandshell, the noise of the jets coming in for a landing at MSP). Not here, though. The staging was simple (no sets, no stage, they simply used a hill to seat the audience and set up on the flat in front, with a magnificent bank of trees as a backdrop.) and the actors, unlike the people they usually get to populate free plays, had a respect for the language, and actually---gasp---developed their characters. It was, by far, the best Shakespeare in the Park experience I've ever had. If you have the opportunity to go to one of their performances, I would highly recommend it.