NOW ACCEPTING PROPOSALS TO DIRECT
the Summer 2015 Show!
Submit proposal to cromulentshakespeare@gmail.com

Proposal to include:
• Shakespeare play (past productions include: Comedy of Errors, Romeo & Juliet, Merry Wives of Windsor, Julius Caesar, Troilus & Cressida, Hamlet, The Tempest, Richard III, Much Ado About Nothing, Titus Andronicus, King Lear, A Midsummer Night's Dream, As You Like It, Twelfth Night, Love's Labour's Lost.)
• Vision for production with considerations including:
-length (help with cutting available): not to exceed 1 ½ hours,
-budget required
-production support required
-space: outdoors in the park or possibly on an outdoor stage or an amphitheater-type setting.
-limited resources for props and costumes (stock)
-extremely minimal or no set
-production schedule (runs every weekend in June plus other possible June dates by invitation)
-auditions held in February
Cromulent strives to present a pleasant and understandable Shakespeare experience that's fun for everybody—audience and performers alike. Call Helen at 612-251-0991 with questions.
Thanks for the support!
Watch for us in June, 2015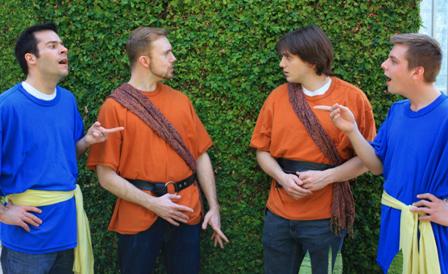 "And I was ta'en for him, and he for me,
And thereupon these errors are arose."
FREE
~
Set up your blanket or lawn chair, bring a picnic and enjoy "a little bit of" Shakespeare.
We'll choose a nice spot in the park to perform, with the best accommodations for the audience.

Note: Performances will not be cancelled unless outdoor conditions are dangerous.


Audience feedback:
"Back from Shakespeare's "A Comedy of Errors," well-advertised as a merry mix-up of mistaken identities. Performed live in the Lake Harriet Rose Garden by the Cromulent Shakespeare Company, this was one of the most delightful afternoons of live theater in my recent experience. The troupe is talented, energetic, creative, and most of all, fun. There will be fifteen more free performances in various Twin Cities parks through the end of June -- highly, highly recommended. Very, very funny." -- David Gustafson
CAST
for Shakespeare's "The Comedy of Errors,"
directed by David Schlosser:
Duke of Ephesus - Hazen Markoe
Aegeon - Tim "Chief" Jopek
Antipholus of Ephesus - Scot Moore
Antipholus of Syracuse - Jacob Wellington
Dromio of Ephesus - Paul McGuire Grimes
Dromio of Syracuse - Michael Torsch
Balthazar / Merchant - Cory DiNardo
Officer - Martha Heyl
Angelo - Matthew Cawley
Aemilia - Helen Donnay
Adriana - BethAnne Nelson
Luciana - Tara Lucchino
Luce / Courtezan - Stephanie Hammon

Stage Manager - Allison (Allie) Cleary
For information, e-mail cromulentshakespeare@gmail.com
or call or text Helen at 612-251-0991.
Committed to "Embiggen the Bard," The Cromulent Shakespeare Company breathes new life into classical plays with a creative and ensemble-based approach. We encourage gender-neutral casting and are open to providing theatre opportunities to all types and skill levels.

Since its start in 1996, the company has performed all around the land of lakes in parks and small theaters.

Past Cromulent productions: Romeo & Juliet, Merry Wives of Windsor, Julius Caesar, Troilus & Cressida, Hamlet, Wyrd Sisters, Bottom's Dream, The Tempest, Richard III, The Hunchback of Notre Dame, Three Sisters, Much Ado About Nothing, Titus Andronicus, King Lear, A Midsummer Night's Dream, A Comedy of Errors, As you Like It, Macbeth, Twelfth Night and Love's Labour's Lost. Adaptations, classics and new works include: Weyward Magic, Falstaff, Sense and Sensibility, Cyrano de Bergerac, Theatre 101, Monsters of Poetry, What I Wil, Robin Hood, Lysistrata Lesson, Fairy Tale Network. and the improvisational show, Stud Game.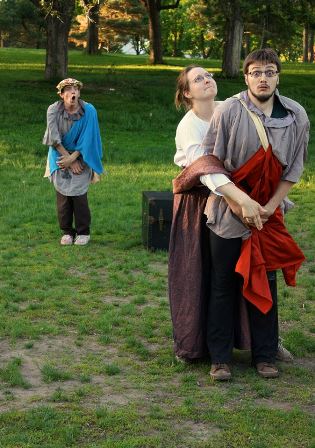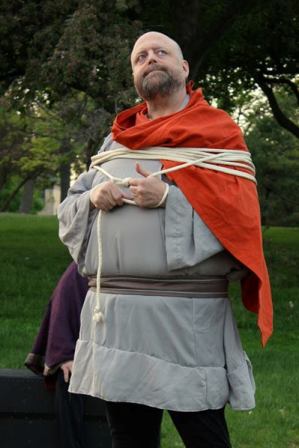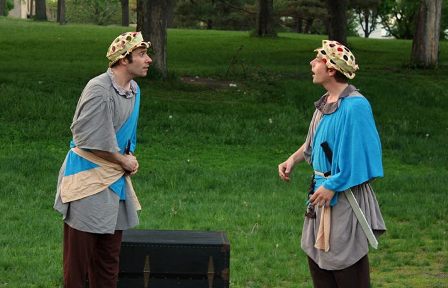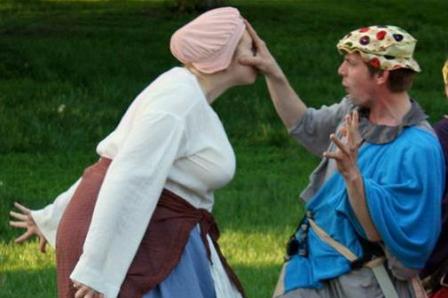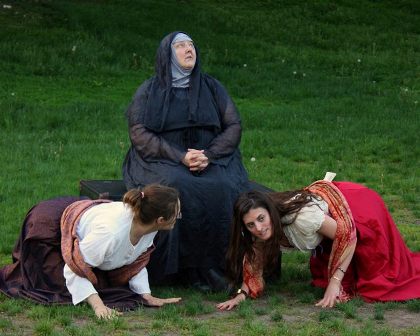 .

.

.
WYRD SISTERS

. . . the classic Discworld novel brought to the stage by The Cromulent Shakespeare Company, was part of the North American Discworld Convention (NADWCon), July 8-11, 2011, in Madison, WI. Guest of honor, Sir Terry Pratchett himself, author of the Discworld series, lauded the production.


"Help to keep our troupe alive..."
Thanks to fiscal sponsorship from Springboard for the Arts, your donation to The Cromulent Shakespeare Company is tax deductible. Please click above or visit our donate page for details.
photos by David Schlosser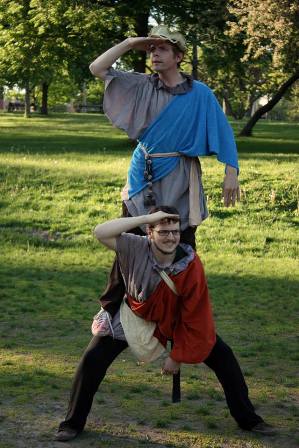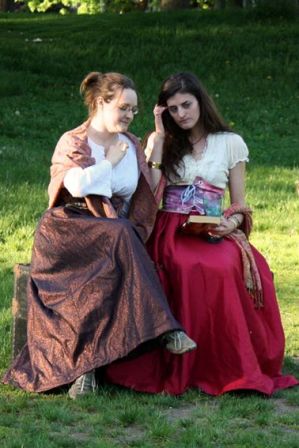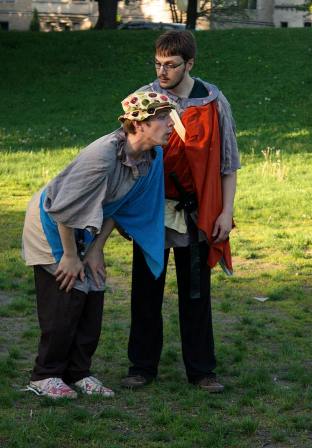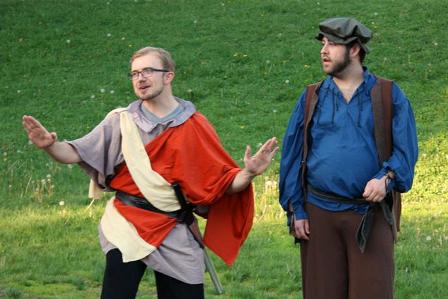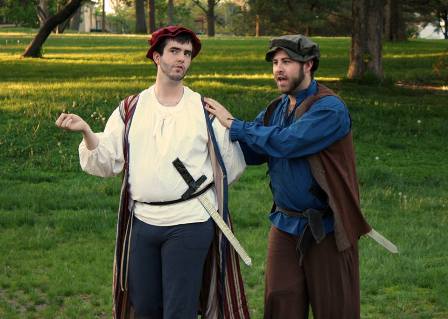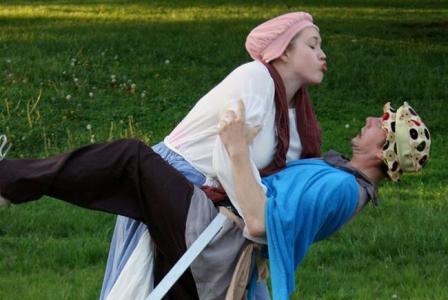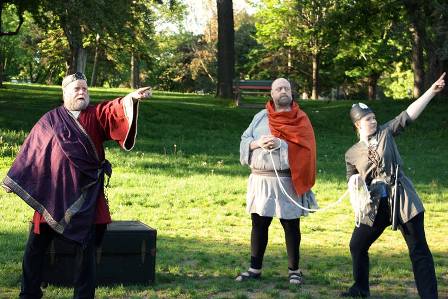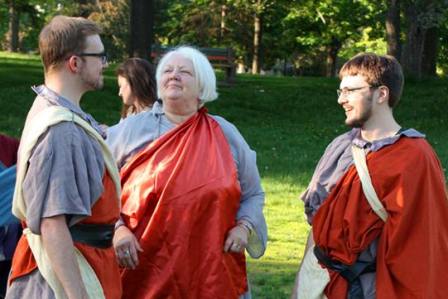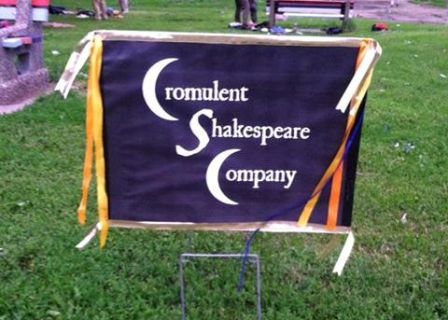 © Copyright 2014 Cromulent Shakespeare Company. All rights reserved.